What a weekend. It started too hot to cope with but then suddenly on Sat afternoon the heaven's opened and Ross, myself and Jo (who'd come along to lend a hand again) found ourselves stood in the garage doorway trying to stop tidalwaves of water coming through the door... with brooms. Unfortunately due to the gravity of the situation (the car floating off down the valley) there are no photos of the actual floods, just a picture of Ross and Jo finishing up the clear out afterwards...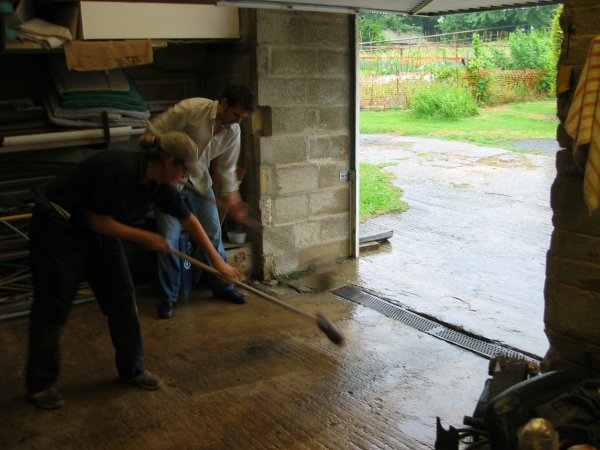 So... the car then. Well the body remained mostly dry thanks to it hanging from the ceiling and we progressed. Ross welded in the bonnet hinge strip and then ground down, filed, and sanded down the area to make it smooth. Close up pics to follow soon.
Meanwhile I set about the holes in the boot. I ended up replacing the floor, side and back of the car on the passenger side corner, and also patching the floor on the driver side where it rests on the chassis. Left to do is make the hardest, curved part of the body for the passenger side corner... here's a pic showing the three patches welded in.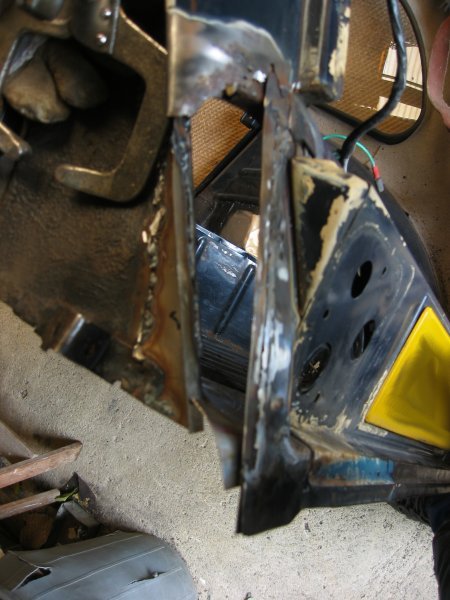 Jo meanwhile had been doing some bolt counting and rust proofing of the bumper, and assorted bits from inside the car that Ross took out to do the bonnet hinge (vents, windscreen wiper motor mount). Then finally... on Sunday... we got to a point where two rather major parts could finally come back together. I'll say no more, just two pictures will suffice. Spot the new hinge on the first pic that Ross just has to fill before we paint.